Pre-Concert Talk: Nicolas Fleury, Emily Sun & Amir Farid
Listen to composer Gordon Kerry as he explores the background and inspiration of the compositions that will be performed by the musical trio of Amir Farid, Nicolas Fleury and Emily Sun.
Discover the context in which Mozart, Brahms and Gordon Kerry himself created their work and examine how their stories are expressed through these specific pieces of music.
MOZART Horn Trio in E-flat major, K407 (1782) arr. Naumann
KERRY Sonata for Violin and Piano (2020) - Commissioned by Julian Burnside, World premiere
BRAHMS Horn Trio in E-flat major, op 40 (1865)
Hello. I'm Gordon Kerry, one of the three composers whose work you're about to hear in this recital for Musica Viva by Emily, Amir and Nico. The other two composers are otherwise engaged but I'm sure they would agree with everything I'm about to say. Nearly 30 years ago on another Musica Viva tour, I attended the premiere performances of a piece of mine along with works by Copeland, Mozart and Dvorak. On one occasion we were in regional New South Wales. That interval, the organiser matter of factly observed that she wouldn't be rushing out to hear that again. 'That' being my piece. While her offsider, handing me a cup of industrial strength tea, admitted that she rather preferred the music of Mozart and Dvorak and that period. I nibbled a thoughtful scone, wondering whether I should point out that Mozart and Dvorak inhabited worlds as different from each other's as ours is from either of theirs. In the end, I kept my counsel but was reminded of the incident when I started contemplating this talk. Certainly, the works of Mozart and Brahms that we're about to hear were written only about eight years apart, Whereas the world would have to wait another 140 or so for my violin sonata. But again, in those 80 years, Europe in particular had changed radically in terms of its politics, its economy and its culture modes. Mozart and Brahms would have found aspects of each other's world completely incomprehensible. So I'd like to consider how that, and of course, the even more radical changes that have happened since, have impacted on the composers and the music in this program.  
We tend to regard Mozart, Haydn and the early Beethoven as the composers who perfected Viennese classicism, writing music that is self contained, rigorously constructed and emotionally restrained. They were not, let me stress, writing to textbook formulae, but they did use, more or less, commonly accepted formal devices. Most classical symphonies and string quartets, for instance, were in four movements, fast and structurally complex on the outside, with songful slow and dance like fast inner movements. Apart from those formal designs and manners, something we find in the mature works of Haydn and Mozart is an abundance of wit. That's not to say that there isn't music of great sadness, especially when we explore Mozart. The great Mozart scholar Maynard Solomon has noted the way in which Mozart creates a voluptuousness of grief in certain works. But what makes the classical style possible is in part the growing popularity at the time of comic opera. Mozart, of course, wrote some of the greatest comic operas, greatest because of their undertone of tragedy. And Haydn wrote and conducted numerous such pieces. And the style of comic opera, which didn't require the superstar singers of more serious gods and heroes works was based on fast moving, catchy tunes, often consisting of short, memorable motives, which were often repeated, transferring that method to the composition of symphony or string quartet, transformed those genres. It is no accident that this high classical style, a mixture of sophisticated form and popular content, reflected a subtle but notable shift in the place of art music in society. All three of the great Viennese classicists were at one time or another liveried servants of a royal or aristocratic household.
Haydn technically remained in the service of the Esterhazy family for his entire professional life. Mozart was born into a family of court musicians, in his case serving the Prince Archbishops of Salzburg, as was Beethoven, whose father was a tenor in the service of the elector of Cologne. Haydn received a dispensation after 1790 to live, travel and publish where he chose. Whereas Mozart and Beethoven made more decisive breaks with their employers. Despite his trip to Vienna to study, having been financed by the elector, Beethoven decided to stay and chance his arm as a freelancer. Those of you who know the film 'Amadeus' will remember that Mozart was quite literally kicked out of the Prince Archbishop's service and moved to Vienna to seek his fortune in 1781. In Vienna, Mozart certainly hoped to secure a position in the service of the Emperor Joseph II. So it's not as if he were turning his back on the idea of court service. But as it happened, he became essentially freelance. He started with teaching and the odd commission, but from early 1782 he was presenting academies, that is to say, public concerts from which he pocketed any profit. Over the next three years or so he gave an unprecedented number of such concerts. And indeed it's for those shows, sold to a band of faithful subscribers, that Mozart wrote many of his greatest piano concertos for himself to play. Some of that extraordinary energy also went into the series of works that Mozart wrote for the horn player Joseph Leutgeb, including four concertos composed between 1783 and the composer's death in 1791. Now living in Vienna, Leutgeb was a good deal older than Mozart and had worked in the employee of the Prince Archbishop of Salzburg when Mozart was still a child. In fact, there's a touching story of the young Mozart waking up in tears in some foreign city while on one of those tours organized by his pushy showbiz dad. Leopold asked why he was crying. The boy said that he was missing his musical friends in Salzburg and Leutgeb was among those he named. As you probably know, the adult Mozart treated Leutgeb pretty abominably, scattering pages of scores, making the horn player piece them together, leaving abusive messages scrawled on manuscripts and so on. And yet as late as 1791, when Mozart's wife, Constanza and their son were taking the cure at a local spa, we find Mozart writing her a letter in which he says, I write this from a small room in Leutgeb's garden where I slept excellently well. I had sent Lenore the chambermaid home and would have been alone in the house, which would have been unpleasant. Mozart, of course, died later that year, leaving one of his horn concertos unfinished.
Nearly half a century later, another young hopeful composer was undergoing a quite different apprenticeship. For Mozart and Beethoven, music was the family trade plied, as we have seen, at the courts of the powerful until those composers took the plunge and embraced freelance life. Johannes. Brahms' father was also a musician, but an itinerant one. Settling in Hamburg after a three year apprenticeship with high hopes and several brass instruments, he subsisted as a session musician before getting a salary job as a bugler in the brass band of the city's militia, and then as a member of the in house sextet at the Ulster Pavilion Café. In due course, and with borrowed money, he and his wife set up a Dutch ware shop for all Hamburg's crockery needs. Young Johannes showed early promise as a pianist, and his father somehow managed to organize a concert for the 10 year old, at which he dazzled sufficiently for there to be talk of moving to the United States and exhibiting him as a child prodigy. What happened, in reality, though, was that Brahms earned extra money for the family by playing piano in rough waterfront taverns, effectively brothels, before his 15th birthday. Plenty of amateur psychologists will tell you that this confirmed Brahms in his lifelong bachelorhood. Be that as it may, it is where he started to hear the Hungarian popular music that would soon be a major influence. It also enforced self reliance in him, such that soon he was earning well from performances as a soloist or in partnership with the likes of violinist Joseph Joachim. And incidentally, in a development that Mozart would surely have envied, he travelled for many of his concerts by train. From 1860 he enjoyed the steady publication of his music. Brahms, even more than Mozart, could afford to write what he wanted, and know that his trusty publisher would sell it. Especially after the Hungarian dancers made them both a fortune.
The cities of Imperial Austria where Mozart grew up, Salzburg and Vienna, were in many ways culturally Italian in the late 18th century. Operas like Mozart's early hit, The Abduction from the Seraglio, were relatively unusual and considered a bit down market for being in German unlike even the popular opera buffa or comic opera that we've talked about already. Brahms of course, came of age in a German, not Austrian city and while he would eventually make Vienna his home, he was aware of gradual moves to unite the disparate german states and free cities. He was certainly in favour of Bismarck's creation of the German Reich and wrote an embarrassing choral ode to prove it. The years since the death of Mozart had seen Europe turned upside down by revolutions, the Napoleonic wars and a rearguard attempt to reestablish the previous regimes. Sure, they also saw, not unrelated, the phenomenon of Beethoven, the brief career of Schubert and the rise of Romanticism, what scholar Charles Rosen called the 'Romantic Generation', Mendelssohn, Chopin and Schumann and we might add Berlioz and Liszt, had broadened art music in two directions. On the one hand, in the work of Chopin and earlier Schumann and Mendelssohn in particular, there is the cultivation of the short fragment, often a piece with a poetic title, one that seeks to capture a fleeting emotion rather than to expound the principles of sonata form. On the other hand, there is the cultivation of ever larger scale works often set in a mythical time or a romanticized medieval period, in which religion and all the supernatural assume greater importance. We are a world away from the rationalist stories of wise Roman emperors or the complications of below stairs life in an aristocratic castle. The path to the operas of Wagner is clear. In later life, Brahms would effectively recreate classicism in his own image. Genres like the symphony and the string quartet in particular had fallen into abeyance after the deaths of Mendelssohn and Schumann in the mid 19th century, until Brown's got over the stage fright caused by Beethoven's legacy and revived them. His first official symphony and string quartet were begun in the 1850s, but only appeared in the 1870s. As a young composer, however, Brahms was sufficiently influenced by romanticism, partly, no doubt via his mentors, Robert and Clara Schumann, to write on one hand, the epic First Piano Concerto and on the other lots of short character pieces such as the Opus 10 Ballades, one of which, with its references to the famously bloodthirsty Scots ballad Edward Edward, is frankly gothic in tone.
The 1850s also saw the foundation of Brahms' long career in vocal music, including songs and Lutheran influenced sacred music. In the 1860s, he produced major choral works, setting the words of poets such as Goethe and the great romantic Friedrich Holderlin, and his choral masterpiece using Liszt's bible translation, a German requiem. The requiem is generally understood to be a memorial for Brahms' mother, who died suddenly around this time after a hard lifetime with her feckless and somewhat younger husband and as I have written elsewhere, the horn trio seems also to be part of this remembrance. The opening theme of the piece is said to have come to Brahms as he sat among the fir trees in Lichtental, a village where he spent the summer of 1865 to be close to Robert and Clara Schumann, who were vacationing there. And a short, unpublished album leaf for piano from the early 1850s recently came to light. We discovered that Brahms used that as the central section or trio of the piece's second movement. Brahms's insistence on the use of a natural horn, deliberately restricts aspects of its agility and expression, as I've mentioned in the program notes. I wonder too whether there is any significance in the fact that Brahms made two versions, one for male chorus in his Opus 41 and one for solo voice and piano in Opus 43 of a medieval song that begins: I sound my horn into the vale of sorrow. My joy has vanished. I have hunted, but I must cease, for the quarry runs far beyond the hounds.
The settings, both the simplest of corrals were as their opus numbers suggest, written in close proximity to the horn trio, and like it, reflect a profound sense of loss. So Mozart's trio, originally for horn and what we might call an alto heavy string quartet, was like much of the music of his colleagues, a work that exists in and for itself and tends not to look back. By contrast, Brahms, like the more romantic figure that he was at this point, turns, like the American poet Robert Frost, to a time made simple by the loss of detail. Where I hear, you ask, does my new violin sonata fit in with all of this? I wasn't raised by court musicians or an aspiring jack of all musical trades. Unlike Mozart or Brahms, my earliest experiences of music were generally not live performances of freshly written works. Thanks to technology, I, unlike them, have access to the music of centuries past from all over the world. The instrumental range I have to choose from, acoustic and electronic, would have been simply unimaginable to earlier generations. So what am I doing writing a violin sonata? Put simply this, I am contributing in my own small way to a literature that I particularly love. I believe that there will always be a need for the intimate space and time afforded by chamber music. I'm honored by the opportunity to write music for the specific talents of two brilliant players. I think Mozart and Brahms would certainly feel the same way. Thanks very much for listening. This has been Gordon Kerry. I'm looking forward to seeing many of you on tour in June for Musica Viva Australia.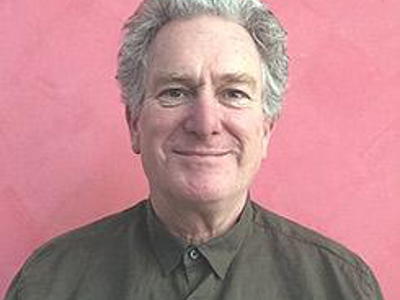 Gordon Kerry
Gordon Kerry is a composer and writer based in north-eastern Victoria. New and recent works include a Sinfonia concertante for the Queensland Symphony Orchestra, chamber works for the Omega, Halcyon, Plexus, Marais Project, and Elysian Fields ensembles, several new choral pieces, and his fourth opera, The Snow Queen, for Victoria Opera. He was Musica Viva's Featured Composer in 2012 and is the author of New Classical Music: Composing Australia. 
Gordon Kerry's Sonata for violin and piano was commissioned for Musica Viva by Julian Burnside AO QC and will be premiered by Nicolas Fleury, Emily Sun and Amir Farid on their national tour from 9 - 26 June.