Tomorrow's leaders
Since 2015, we've been discovering, nurturing, and enabling brilliant early-career artists to become Australia's musical leaders of tomorrow.
As part of Musica Viva Australia's two-year FutureMakers program, participants take part in 'intensives', including strategic mentoring from leading artists, directors, and consultants across various industries and sectors. Through developing their entrepreneurial skills and leadership capabilities, FutureMakers can go on to positively shape the artistic landscape of Australia.
Once a FutureMaker, always a FutureMaker
Building the future of Australia's musical landscape takes more than a couple of years. We are incredibly proud of our FutureMakers, and we are strongly invested in supporting FutureMakers alumni and their careers beyond the scope of their initial program.
We are pleased to support talented double bassist, vocalist and composer Helen Svoboda and violist Katie Yap as FutureMakers from 2023-2024 who join composer and violist Matt Laing, (who finishes up mid year). Alumni include the 2020-2022 participants Partridge String Quartet, as well as Aura Go, Matthias Schack-Arnott, Arcadia Winds, and Harry Ward.
2023 - 2024 Artists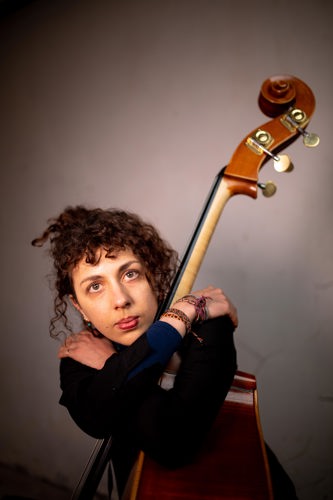 Photo: Celeste de Clario
Helen Svoboda
Helen Svoboda is a double bassist, vocalist and composer, based in Melbourne. Her work explores the melodic potential of the contemporary double bass, intricately weaving extended techniques and overtones amidst abstract song-writing and vegetable-themed compositions. "A musician who absolutely defies categorisation" (Andrew Ford – The Music Show, ABC), her performance practice emits a childlike, quirky energy, with a flair for "allowing difficult ideas to sound whimsical and free" (Kristin Berardi, AUS).
Helen lived and studied in the Netherlands and Germany between the years of 2018-20, and has performed with artists and organisations including Cory Smythe, Sebastian Gramss, the Melbourne Symphony Orchestra and the Australian Art Orchestra. She was awarded the 2020 Freedman Jazz Fellowship, was the recipient of the 2020/21 Australian Art Orchestra Pathfinders Music Leadership Program and is currently studying a PhD in composition under the tutelage of Cat Hope at Monash University.
In line with her active performance career, Helen has released albums across a substantial number of her own original projects to date, including 'Vegetable Bass' (June 2020) and 'Since Subito' (Meatshell, 2021). As a composer, her commissions include works for classical guitar and viola, alongside a collection of her own solo bass scores which are published online in the Contrabass Conversations Online Music Library.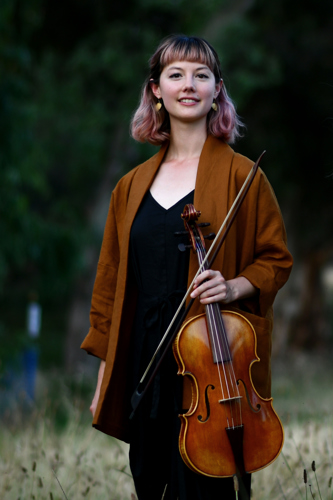 Photo: Darren James
Katie Yap
Modern and baroque violist Katie Yap plays regularly with Australia's finest ensembles including the Australian World Orchestra, Australian Chamber Orchestra, Van Diemen's Band, Melbourne Symphony Orchestra, Australian Brandenburg Orchestra, and has joined groups like the Academy of Ancient Music overseas. Her greatest love is chamber music, and she is a founding member of prog-baroque quartet Croissants & Whiskey, the Chrysalis Harp Trio, and crossover folk/baroque group Wattleseed Ensemble.
Katie is fascinated by music's ability to tell stories and bring people together. As the 2022 Freedman Fellow, her project Multitudes explores the nexus of folk, baroque, and new music styles, and a life-long fascination with improvisation. She will create four new works through collaborative composition with partners in crime Emily Sheppard (fiddle/voice), Donald Nicolson (harpsichord/electronics), Bowerbird Collective (violin and cello), and Mindy Meng Wang (guzheng), exploring themes of cultural identity, environmental storytelling and activism, and the physical joy of music-making.
Katie has become known for her curation and project management, and she explores this side of her career through her role as Artistic Director of the 3MBS women-in-music festival, Music, She Wrote and Wattleseed Ensemble. She is also a passionate educator, having taught viola at the University of Queensland and Monash University, and she has an intractable habit of stress-baking, which can make for delicious rehearsal breaks!
2021 - 2023 Artists
Photo: Cameron Jamieson Photography
Matt Laing
Matt is a freelance composer and viola player currently based in Melbourne, Australia.​ His music, "described as thought provoking and unusually beautiful", is fundamentally driven by an interest in storytelling through sound, typically around themes of social connection and environment.
Matt's been a professional freelance viola player since 2012, playing regularly with the Melbourne Symphony Orchestra and Orchestra Victoria, and as a core member of the Melbourne Chamber Orchestra. He has also performed in the Australian Octet, and Melbourne-based ensembles Quartz, Rubiks and Arcko.
Festival engagements as a performer have included the Perth and Melbourne International Arts Festivals, the Bermagui Four Winds Festival, the Australian String Quartet's Dunkeld festival.​ Matt was soloist in the first complete performance in Australia of Morton Feldman's The Viola in My Life with an orchestra of ANAM musicians.
His freelance career has also included pop gigs and musicals, and he has a varied recording career across a wide range of styles for TV, film and albums.
Futuremakers Presenters
Lead funding for FutureMakers is provided by the Berg Family Foundation.

Yaron Lifschitz – Artistic Director, Circa
Genevieve Lacey – musician, composer, curator / Chair of Australian Music Centre Board / Artistic Advisor UKARIA Cultural Centre

Matthias Schack-Arnott - Percussive Artist, FutureMakers alumni 2018-2019
Alexis Wright - Author
Bruce Gladwin - Artistic Director, Back to Back Theatre
Cameron Lam - Art Music Specialist, APRA/AMCOS
Kiran Phatak - Arcadia Winds, FutureMakers alumni 2016-17
Michaela Coventry - Executive Producer, The Substation
Darren Taylor - Managing Director, Taylor and Grace
Tim Kelly – Managing Director, 5Stream
Tim Dunlop – author, writer, academic
Caroline Sharpen – Principal, Sharpen Creative Industries Consulting / CEO Tasmanian Symphony Orchestra
Judith Crispin – poet, photographic artist
Kate Hood – Artistic Director, Raspberry Ripple Theatre Company
In Conversation: FutureMakers
Watch our insightful webinar with Arcadia Winds' Lloyd Van't Hoff, the Partridge String Quartet's Eunise Cheng, pianist Aura Go, and violist Matt Laing below: