Pre-Concert Talk: Ensemble Q
Join Paul Dean, the co-artistic director of Ensemble Q as well as the clarinetist for this upcoming tour, as he provides a unique insight into the members of the ensemble and the works and compositions they will be performing.
He will also delve into why they have chosen this particular program to present and as one of the composers himself, explain his thought process behind this artistic vision.
DEBUSSY Syrinx (1913)
BEETHOVEN Variations on 'Là ci darem la mano' (1795)
LIGETI Six Bagatelles for wind quintet (1953)
BRITTEN Ciaccona from Second Suite for Cello, Op. 80 (1967)
BARBER Summer Music, Op. 31 (1955)
PAUL DEAN Concerto for Cello and Wind Quintet (2018)
PAUL DEAN CLARINET AND ARTISTIC DIRECTOR
TRISH DEAN CELLO AND ARTISTIC DIRECTOR
VIRGINIA TAYLOR FLUTE
HUW JONES OBOE
PETER LUFF HORN
DAVID MITCHELL BASSOON
Hello. It's Paul Dean here and I have the great pleasure of being the co artistic director of Ensemble Q as well as the clarinetist for this upcoming tour. But not only that, I'm also a composer of one of the pieces. This tour features an amazing program of wind and cello music brilliantly put together by Paul at Musica Viva and us at Ensemble Q. I'll start by just introducing the members of Ensemble Q for the concert this evening. Starting with the flute, Virginia Taylor. Many of you of course will know Virginia because of her many years of fantastic work at the Canberra School of Music, Australian National University in Canberra. But also for the many years she was also principal flute with the Australian Chamber Orchestra. Second person in the group, Hugh Jones, who is the oboist this evening. He's principal oboe with the Queensland Symphony Orchestra but will be known to many people in Sydney because of course he studied there but played with the SSO and the ACO for many years. The bassoonist is David Mitchell who comes from Cairns. It's amazing the number of great musicians we get from Cairns, the Cairns State High School there has an amazing reputation for creating great musicians and David is one of a long line of great musicians from there, bassoonists in particular. He studied at the Sydney Conservatorium and was also a principal player with the Queensland Symphony Orchestra. Our horn player is Peter Luff. Many of you will know Peter from his work and many years with the Southern Cross Soloists, but also as an active member of the Queensland Symphony Orchestra and has played a lot of principal horn with the Melbourne Symphony Orchestra recently. The cellist and co director of Ensemble Q is Trish Dean and she probably has the biggest job in this concert playing the wonderful Britten ciaccona for solo cello, but also the cello, solo part to my concerto.
So this program is a great exploration of music for, well in particular wind music, and also the way it relates to the solo cello work of the Britten and my concerto, which is of course a concerto for cello and wind quintet. The whole program starts with Debussy's Syrinx for solo flute. Now, it's quite remarkable in history, the number of short, seemingly incidental pieces of music that creates such an impression and in many ways become far more important than I think that the composers ever intended in the first place. But Syrinx is one of those great examples of a piece of music that was written as an incidental music to the play Psyche by Gabriel Mourey and in many ways became the launching pad for some great solo music for flute in the 20th century, but was probably the most significant piece written for the new Boehm system flute. Written in 1913, just before the First World War, and not too many years before Debussy passed away. And the title, of course, is all about the amorous pursuit of the nymph Syrinx by the god Pan, in which Pan falls in love with Syrinx. Now, Syrinx doesn't return the love and she turns herself into a water reed and hides in the bushes. Pan cuts the reeds to make his pipes and in turn he kills his love – a hopelessly romantic story, of course. But Debussy songs this story up in absolute masterful way in his three minutes. This piece really welcomes the audience to the program And we then go segue into the work by Beethoven. Now, this is a work of Beethoven's that perhaps, you know, for all of the people out there who love their Beethoven, myself included, probably have never really come across. In the 1790s, Beethoven wrote two particular works for two oboes and cor anglais and this is one of them: the Variations on 'La ci darem' from Mozart's Don Giovanni. This was particularly interesting because a few years before Mozart's death, Beethoven went on a 16 day trip to Vienna. And of course met the great Mozart in that time and played some very flashy piano pieces as a 16 year old to him. And Mozart made him sit at the piano and play a set of variations on a chosen theme of his own. And now whether it was in fact La ci darem or something else, Mozart was so impressed that he told his housemates that they better keep an eye on this young chap. I don't think you probably use the word chap, but that's the way the stories were told these days. Now, Beethoven had to hurry home to help his mother, became ill and he never again saw Mozart. By the time he came back to Vienna and made Vienna his home, Mozart had passed away. It was really the thing of the day to take popular tunes and arrange them for wind groups, where wind groups could play them at parties or play them outside and people could get to know the tunes of the day. Very much like we use record players, CD players or in these days, Spotify, to get to know pieces of music. So in those days, it was the operatic theme to arrange for various groups, mostly for winds. Mozart himself, of course, made quite a lot of money out of these. Funnily enough, he probably made more money out of making arrangements of these things than writing the piece in the first place. So, Beethoven really just hopped on this bandwagon and this particular wonderful set of variations was probably just Beethoven A: showing off and B: trying to make some money. The piece has a great life these days, basically as a re trio for oboe, clarinet and bassoon. We've chosen to play this piece for oboe, clarinet and cello because we really think that the cello gives great depth to the quality of the particular sound, particularly in the big halls, but also in the minor variation, I think you'll agree that the cello adds an absolute touch of masterful sound to the whole occasion.
Following the Beethoven, we move forward quite a number of years. In fact, we hit 1953 and play the six bagatelles by Gyorgy Ligeti, the Hungarian composer. Now this is a really incredible piece and probably the most famous wind quintet ever written. Originally, it was 11 piano pieces called Musica Ricercata and every piece, there was 11 pieces, and every piece going from one through to 11 adds one more interval. So the first starts with just a semi tone. And then as we go by the 11th, he adds all notes of the chromatic scale. Now he decided to arrange six of these for wind quintet in 1953, just after he'd finished the piano works. And you get a sense that there's a growth from the minor third in the first one that he arranged for wind quintet right through to the last one, which includes most of the notes of the chromatic scale. It's an absolute showcase of wind playing in general. But the most fun to play I think, and probably I also think that the most fun to listen to of any wind piece ever written. We go segue again, as we did between the Syrinx and the Beethoven. We go segue straight into the ciaconna for solo cello by Benjamin Britain. Now this was written some 14 years after the Ligeti in 1967. And you will understand when we, we start the piece, why the two works goes so beautifully together. Because in many ways the Britten starts in exactly the same sort of fashion that the Ligeti finishes. The ciaconna was written for the great Russian cellist and friend of Britten's Rostropovich. And he wrote three suites for solo cello and this is the last movement of the second suite and probably, in many ways, the most famous and popular of any of the movements from the three suites. I'm absolutely amazed by this piece in so many ways. What he can do with a cello actually beggars belief, but he never does it in a way of gimmicks. It's actually always just fascinating to listen to and the sounds that he gets. And of course a chaccone is basically variations on a particular baseline and the variations are based on various different sounds that you can get out of the cello and it absolutely begins in the greatest humour and finishes with great humour. But I think the middle that has a real sombre, heartfelt meaningfulness that really signifies the greatness of so much of the works by Britten.
After the Britten, we move then to the Summer Music by Samuel Barber. Now this work was written in 1956. He actually was commissioned the same year that the Ligeti was written in 1953, and it took him three years to really to find out the sort of piece that he wrote. It's an absolute masterpiece for wind quintet and so totally different to the Ligeti and they work so well, almost side by side, just being squeezed after the Britten. The thing that I always find about that the Barber is, he makes a wind quintet sound more like a string orchestra than any other composer in history. And the glory of the romantic harmony that he uses in the 1950s comes across in such a unique and special way. This piece was like his great song cycle, Knoxville Summer of 1915 was very much based on the summer holidays he used to have to spend with his auntie in Knoxville, Tennessee. And he had a rotten time on these holidays. And the whole piece is really based on homesickness. There's so many great pieces in history that are based on homesickness. Of course, the most obvious of those was the New World Symphony of Antonin Dvorak, which when you actually listen to with the sense of homesickness, you will really find that the Dvorak 9th Symphony means much more to you than it ever has perhaps in the past. But when one listens to the Barber Summer Music and thinks of homesickness, the oboe tune, which comes in at about the half, 30 second, half a minute mark. One absolutely feels this sense of a young boy who is absolutely distraught to be where he is at that particular time. It starts with the bassoon and the french horn playing in force. And he uses this to symbolise the trains in the southern American states where the horns are tuned to 1/4 and in many ways the opening so called train horn motive, is a symbol of the train leaving the station after having dropped him off with his, some would say wretched, auntie. The story then goes along with him making all sorts of fun for himself at his auntie's place and getting into all sorts of mischief and the clarinet, which I have the honour of playing represents the very grumpy auntie twice who comes in on specific occasions to rouse on young Samuel. The piece is the most incredible showcase for wind writing. He obviously knew the work of Ravel extremely well, and the work of Stravinsky extremely well, and the way he uses the instruments in the sort of modern romantic sense is really utterly imaginative and compelling from beginning to end. He said in a very famous quote about Summer Music, that the piece really is about summer in terms of long, hot, sweltering days, not swatting mosquitoes. But unfortunately, he heard a performance once which was rather too slow and got angry with the musicians and said that it's Summer Music, not winter music. So there is a fine line between enjoying the long, beautiful slow lines too much and obviously not enough.
This takes us to the last piece in the program which was composed by me and it is a concerto for cello and wind quintet. As far as I know, there isn't another work for cello and wind quintet in the repertoire. I am aware of the Ibert Concerto for Cello and 10 Winds, which is an extremely beautiful piece and of course fairly played. But I was fascinated by the idea of the cello playing with this mini orchestra of winds. The concerto is of course one of the most famous forms of music, but it does always have its problems in terms of one soloist being pitted up against an entire orchestra. And I always find that some of the big string concertos as marvelous as they are, aren't always so successful in the concert hall because of the size of the orchestra versus the one solo line. So I've always been fascinated by composers such as Hindemith who in his Kammermusik series wrote this incredible solo line against very small orchestras, but just because they were small orchestras didn't mean that there was not activity and not lots of color. So in using the Kammermusik cycle of Paul Hindemith's as a sort of goal, I guess you could say. I started writing this work in 2018 for my wife, Trish almost as a conversation between the cello and, and the five winds. Sometimes the conversations are extremely active and some would say argumentative and other times the six instruments get on extremely well. I started composing this piece just after finishing my opera, Dry River Run. And In many ways the 18 months that I spent writing an opera was probably the greatest teacher I've ever had because all of a sudden you're confronted with a two hour piece of music which is based on libretto and you have to come up with a sense of melody vs harmony. This was the first piece that I wrote following writing the opera and it enabled me to really have a look at this, this concept of what happens in modern music between harmony and melody and the audience will be able to see what the answer I came up with, in terms of this particular piece. It has three movements. The first movement is called 'New Paths' and it was at a time when Trish and I had moved to Brisbane. I was living in Melbourne running the Australian National Academy of Music and Trish was running the Coff Harbour Regional Conservatorium and we moved to Brisbane to start our new life together, which involved, of course, amongst other things, finding decent walks for our dogs. So in many ways there's a playful element to the first movement, as well as a sort of heaviness, I guess, to the conversation about moving to a new place. The second movement is called 'Under the Canopy'. And on one of these dog walks we came across a very beautiful park that was surrounded by leopard trees. Now the light in Brisbane in summer is incredibly bright, for those of you who have been here during summer, and the light that came through the leaves on the leopard trees in the morning during our walks was one of the most extraordinary sights I've ever seen and created the musical inspiration for me to write this particular movement. The last movement is called 'Homage to Le Six'. Le Six was a group of French composers I've been infatuated with for decades, primarily the composer Francis Poulenc, who has been a great inspiration to me, but the other five composers, I've also programmed much and played much of their music and I love the sense of fun that they bring to music in many ways. Le Six was brought about to sort of counteract that overblown romanticism and the post-Wagnerian, but also to counteract the second Viennese school. A group of composers meeting for the odd cup of tea or probably more rightly absinthe, sort of decided that they were going to make music fun for the audience and hopefully fun for the players. In many ways, that was the rationale behind writing this last movement for this concerto. I'm hoping that it's going to be fun for the audience to listen to. It certainly is a great hoot to play once you know which beat of the bar to play in.
So that sums up the program for this particular concert. And I really hope that you have as much fun listening to the program as I know that we're going to have playing it. It really shows a great showcase of music from the 1790s, right through to music that was written in 2018 and shows the great variety of music that can be played with wind instruments. And of course, once you throw in the glory of the cello, you really can come up with some amazing combinations and sounds. Thanks very much for being here. And I hope you enjoy the concert.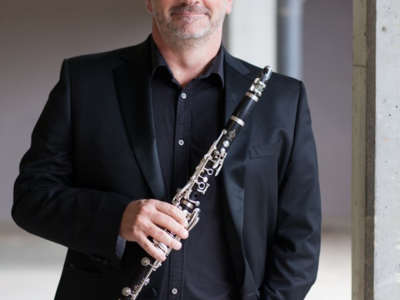 Paul Dean
Clarinetist Paul Dean is regarded as one of Australia's foremost musicians in his multiple capacities as soloist, chamber musician, composer and artistic director. He currently holds positions as Head of Winds at Queensland Conservatorium, Griffith University, Co-Artistic Director of Ensemble Q and conductor of both the Queensland Youth Orchestra 2 and the Brisbane Symphony Orchestra.